Wow - it's already August 5th!!! Can you believe it??? I've pretty much worked the entire summer away so far LOL. Since its the 5th of the month ... I have my DT challenge to share with you - which I posted at Lil Scrappers today. I've decided to do an inspiration challenge each month - so I show a photo and you take something from it that inspires you to create a layout or a card ..... easy peasy!! You can see my challenge here (but you have to register on the message board first) we don't bite - really!!!
My layout and card ...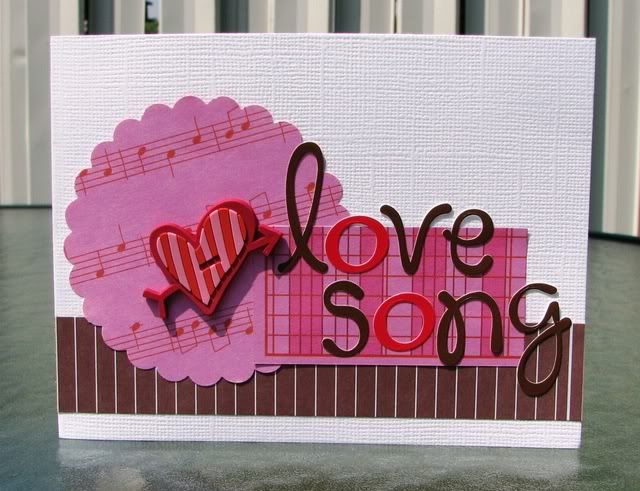 Now for the tag .... my dear bestest friend Carla decided to tag me LOL. So here it goes ....

The Nitty Gritty details: It's a random tag, and here are the rules!
1. Link to the person who 'tagged' you!
2. Post the rules on your blog!
3. List 6 random facts about yourself!
4. Tag 6 people at the end of your post!
5. Let each person know they have been tagged by commenting on their blog!
6. Let the tagger know the entry is posted on your blog!

Ok ..... 6 random facts ..... hmmmmm
1. I don't drink pop .... ever .... I can't stand the stuff and yes that makes me a bit of a freak LOL.
2. I still live at home with my Dad .... the rent is much cheaper here LOL.
3. I hated the colour PINK up until about 5 years ago LOL.
4. I was an Artsy Jock in high school. I did all the Art stuff ... along with playing Field/Ice Hockey, Soccer, Badminton and Volleyball.
5. I was asked to paint a mural on one of the walls at my high school - because I was good at it *blush* ... it was later painted over by someone who was better at it then I was LOL.
6. I have a Fine Arts degree ..... and currently work in a hospital as a PSW - I know .... I'm a little strange .... LOL
Ok so now I get to pick 6 people to tag ....
Corinne - a dear friend and Stampin Up Demo and one of the kindest souls I know .... and ubberly talented person!!!!
Aimee - fellow DT at Lil Scrappers .... and also VERY talented scrapper/photographer!!!!
Kathy - amazing photographer .... scrapper and American Crafts NEWEST DT Member!!!!!
Kazan - Co-Founder of 2sketches4you - another really talented lady!!!
Vicki - I don't personally know Vicki but everyone knows her - I stalk her blog and she's Canadian and i lOVE her!!! Oh and her work too!! LOL
Michelle - I don't personally know Michelle either but shes another fellow Canadian who's blog I found - and love - and well she is just talented to the max!! A very young and fresh style!!! and shes into Animation - and shes really good at it!!
Ok I think that's it for today!!! Happy tagging ladies - ready ... set ... go ... YOUR IT!!!! LOL -I'll be back soon :]