I've been singing that song all day LOL!!!! Today was a gloomy HOT humid day in Southwestern Ontario!!! Its days like these I'm thankful for Central Air ... sometimes I think I'd die without it!! LOL. I have a card to share today ... I made this card with a kit I received from my Dear Friend Carla!!!! I have no idea what any of the products are in this kit *blush* but it was yummy and super easy to work with!!!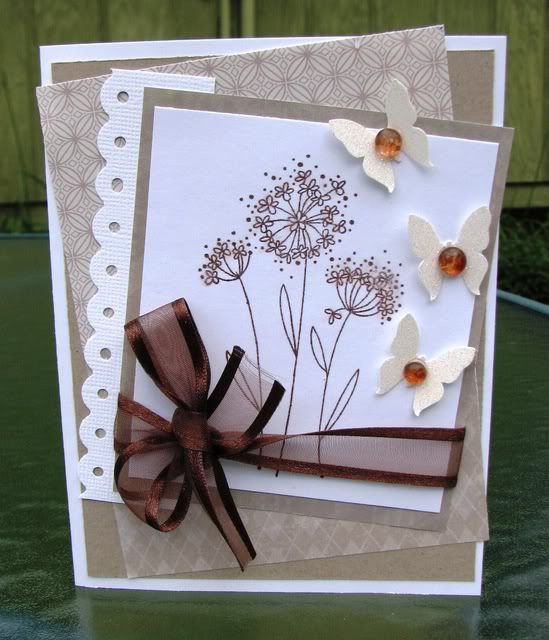 Also ..... my darling friend Carla (man this post is all about her LOL) is in the Papercrafts Gallery Idol Contest ... and their new cards went up today!!! Gorgeous work again this round!!! This one is my fave .... but I'm a little biased ...... *whistle* LOL
If you love Carla's card as much as I do ... you can vote for it here and check her name!!!! She would appreciate the vote I'm SURE .... and come on ... lets keep the Canadian in the running!!!
One last order of business for today - Make sure you check out the Sheetload of Cards Blog .... there is a few chances to win some AWESOME stuff!!!! Alicia the ever so generous founder has set up a Shout out to Sheetload and Show Us your Sheetload blog candy contests!!!! Follow the links for all the details!!!! You also have until midnight tonight to vote on a reader spotlight to be a guest artist!!! Quick get over to the blog!!!
The very last thing for today .... I'm getting close to 7000 hits - which is huge for me LOL .... but I'm going to celebrate with some BLOG CANDY!!! Check back at the end of the week for that!!!!Thanks for stopping by and for all your kind comments!!! *smiles*